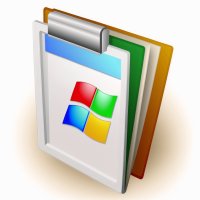 Paste As File
What does it do…?
PasteAsFile Windows Utility converts ANY content that's on the "Windows Clipboard" to a FILE! Just COPY something to your clipboard, right-click your mouse in any folder, select 'PasteAsFile' and the file is created in that folder; and there's a lot more!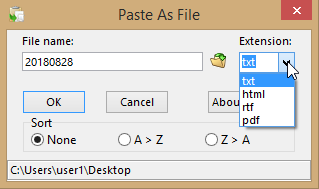 Paste ANY content that's on your Windows ClipBoard to a file.
Simply copy anything onto the clipboard, go to your preferred folder / directory, right click your mouse and Paste As File to create a file - simple as that!
The created file can be: txt, pdf, html, rtf (formatted), jpg, pcx, png, bmp, tga, gif, tif, php plus many more.
This is the official site for the "Paste As File" Windows Utility
There are many other sites with hacked versions / serial numbers of this useful Windows utility; do not use those sites as they are not supported, and they WILL infect your computer with malware - that's how they work! Do NOT use those websites.
Description: Paste As File is a Windows app to paste the contents of the clipboard to a new file in any folder you want. "Paste as file" uses the context menu within windows explorer (right click menu). It can paste and convert the content of the Windows Clipboard in many formats such as a text file, RTF file, PDF file, or image file based on the contents of the clipboard. MULTIPLE supported image formats are available 1).
New In V5 you can now paste FILES copied to the clipboard to a ZIP or 7z archive, list the files to a TEXT file with details and copy the files to a sub folder. See help file for details.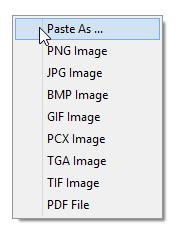 You can paste as a plain text file just by changing the extension. If you want to paste to a HTML file, just change the extension to HTML.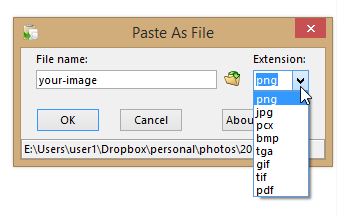 Use it for easy copying of HTML, PHP, and CSS just to name a few.
Notice: Windows XP will have the menu item on the folder context menu, not the background menu.
Paste As File has a 15 day trial. After the trial it must be registered to continue use.
Current Version: 5.0.0.5 (20180913)
Requirements: Windows XP or higher. (Java for clipboard image to pdf file support).
Features:
SAVE A HUGE AMOUNT OF TIME

Supports PASTING most file types

Plain text

RTF files

Create PDF files Automatically!

… and most image files - jpg, pcx, png, bmp, tga, gif, tif, and pdf

Works seamlessly with all Windows versions

Just Copy anything, go to your folder/directory, right-click and "paste as file"

Create a ZIP or 7z archive

Use for researching articles and content from the web - you can select, copy and paste as formatted HTML

Save a list of copied files with details to a text file

Copy the files in the clipboard to a sub folder

Clipboard saver - Using an external freeware application called

NIRCMD

you can copy data to the clipboard and then use PAF as normal and when the main window is open you can then copy and paste text into the File Name box. When you press OK the original contents are restored and pasted as normal.

NIRCMD

is not needed for normal use and is optional. If you do want to use it, please download

NIRCMD

and place the nircmd.exe in the install folder of PAF (Usually c:\Program Files\

PasteAsFile

).
Quick preview
Video 'Paste As File' Windows Utility
---
1)
jpg, pcx, png, bmp, tga, gif, tif and PDF