This is an old revision of the document!
---
What's "Paste As File" all about?
For the moment please just read the help file under the download paste as file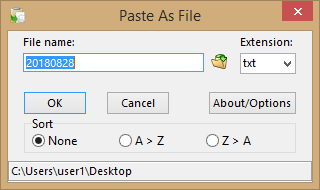 Paste as file will create a file with anything that's copied onto the clipboard.
You can copy images, text and web content and then easily paste it onto Windows Explorer. This will then create a file of that content.
You can convert the clipboard content to different formats such as:
Web (html) from standard content

PNG to JPG or JPG to PNG

Convert text, html or any image straight to a PDF!

Convert clipboard content directly to rtf format for Microsoft Word editing